Bravo I/II/III Impeller Repair Kit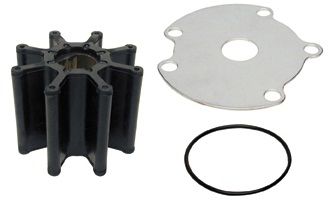 Bravo I/II/III Impeller Repair Kit
Includes: Impeller, Wear Plate, & O-Rings




To repair Bravo older belt driven pumps with 5/8 single flat shaft.  If your body is brass you are looking at wrong year pump.





This  pump  is available with housing complete  Complete  pump


Replaces : O.E.M no. 47-59362T6 Sierra no. 18-3237 no. 12084




Fits: Mercruiser Bravo I/II/II 1988 & Up w/ Plastic One Piece Housing "impeller kit with s.s.plate with 'o' rings w/o the housing, KIt repairs the pump if the housing is good, im3909-im3909h-im3909hc-im3909bsc
Bravo Water Pump Repair Kit w/ 5/8 shaft, BRAVO IMPELLERS WATER PUMP MERCRUISER WATER PUMP STERN DRIVE IMPELLER MERCRUISER WATER PUMP WITH TOP SPECIAL MARINE MERCRUISER RAW WATER PUMP FRESH WATER COOLING SUCTION PUMP IMPELLER KIT MARINE DISCOUNT O.M.C. IMPELLER RUBBER KIT 46-44292A5 46-55234A3 46-64141A1146-96148A8 47-89984Q5  47-43026T10  47-59362Q7 47-89984T4  47-43026T2 47-59382T1 MERCRUISER WATER PUMP SERVICE KIT MERCRUISER #1 OUTDRIVE WATER PUMP IMPELLER KIT  ALPHA 1 MERCRUISER WATER PUMP IMPELLER KIT  MERCRUISER ALPHA 2 WATER PUMP IMPELLER KIT DISCOUNT O.M.C. COBRA WATER PUMP STRINGER WATER PUMP IMPELLER KIT STERNDRIVE."