Alpha One/MR Complete Water Pump Kit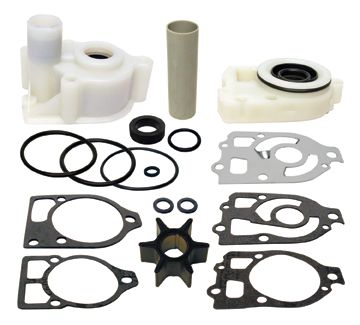 Alpha One/MR Complete Water Pump Kit
Includes: Upper & Lower Housing, Wear Plates, Impeller, Gaskets, & O-Rings




Replaces : O.E.M no. 46-44292A4 Sierra no. 18-3320 no. 12120




Fits: Mercruiser Alpha One/MR 1984-1990 "Replaces:Mercruiser # 46-44292A5 Sierra 18-3320 Complete Pump Housing kit for MR Alpha One units sn 6854393-0D594568. Contains Sierra Description O.E. Qty. W/P KIT Internal parts PLUS Both Housings ALPHA W/P kit includes all internal parts and impeller plus an ALPHA base with seals to fit units after 1986 with no pin on the top of the drive shaft,
im091-im091sp-im091c1-im091ca
DISCOUNT IMPELLERS , WATER PUMP OUTDRIVE MERCRUISER,  O.M.C. WATER PUMP,  STERNDRIVE IMPELLER MERCRUISER,  WATER PUMP WITH TOP SPECIAL,  MARINE MERCRUISER RAW WATER PUMP,  FRESH WATER COOLING SUCTION PUMP IMPELLER KIT , MARINE DISCOUNT O.M.C.,  IMPELLER RUBBER KIT,  46-44292A5 46-55234A3 46-64141A1146-96148A8 47-89984Q5  47-43026T10  47-59362Q7 47-89984T4  47-43026T2 47-59382T1 MERCRUISER WATER PUMP SERVICE KIT,  MERCRUISER #1 OUTDRIVE WATER PUMP IMPELLER KIT,   ALPHA 1 MERCRUISER WATER PUMP IMPELLER KIT,   MERCRUISER ALPHA 2 WATER PUMP IMPELLER KIT,  DISCOUNT O.M.C. COBRA WATER PUMP,  STRINGER WATER PUMP IMPELLER KIT,  STERNDRIVE COOLING PARTS, Mercury 47-89984Q5 Fits Mercury Mariner 65 hp 4 cylinder through V-6 outboards with short-vane impellers and fits MerCruiser I R MR Alpha drives s n 2495186-OD469858 Kit contains impeller - water tube - wear plate - wear plate gaskets - drive shaft o-rings "